Giorgio Chiarva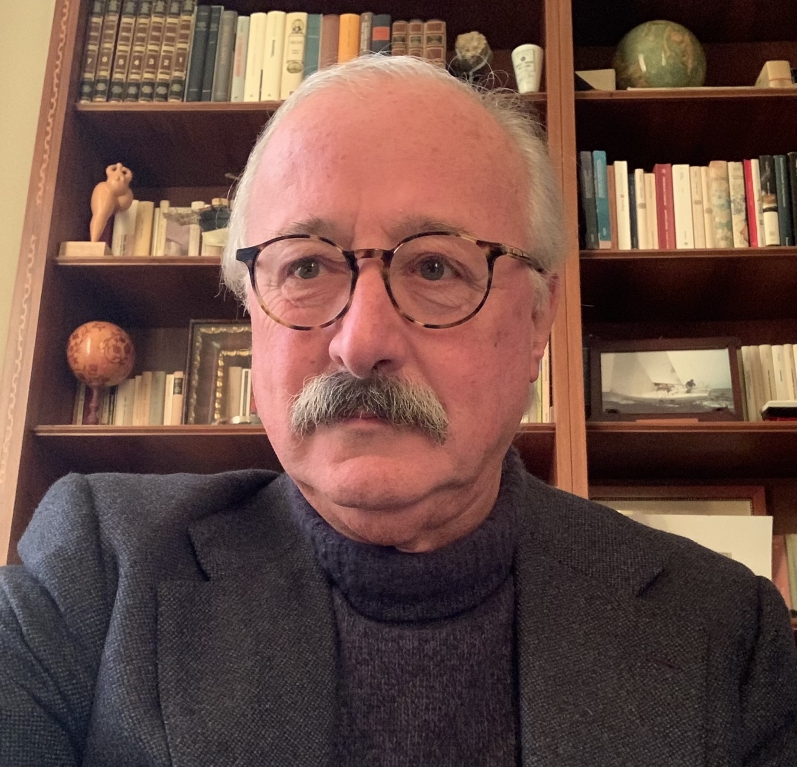 Giorgio A. Chiarva has a degree in architecture and for forty years he has been an entrepreneur in the wood design industry. He also worked for a number of newspapers as a journalist and an administrator. He published two volumes of short stories, and this is his first novel.
Anna Lawton
Anna Lawton has earned her PhD in Russian Literature at UCLA. She worked both in academia and in government. As a professor, she taught courses in literature, cinema and visual culture at Purdue University and Georgetown University. She also worked for USIA at the American Embassy in Moscow as the Deputy Director of Public Information and Media Outreach and the editor-in-chief of the magazine Connections, and at the World Bank in Washington, DC, as the managing editor of the magazine Development Outreach.
She has served on the Advisory Film Committee of the National Gallery of Art, and directed conferences, seminars, film festivals, round tables, and editorial projects for the Kennan Institute, the National Gallery of Art, the Smithsonian Institution, the Library of Congress, and the Italian Embassy in Washington DC, among others.
She published three scholarly books and numerous scholarly essays and book chapters, as well as two novels. She has received several awards, including the CHOICE Award as Outstanding Academic Title 2005 for her book, Imaging Russia 2000: Film and Facts.
In 2003, she founded the publishing house New Academia Publishing, which is today a successful enterprise.
Sara Gay Forden
Sara Gay Forden is an author and a journalist with a knack for digging out compelling stories. Her first published newspaper article told the tale of "Ma," the owner of the Red Lion Diner in Northampton, MA, who fed the down-and-out and went on to found a homeless shelter, becoming a pillar of the community. Fast forward 40 years and Forden's book, "The House of Gucci," about the family saga behind the historic luxury brand, is becoming a major motion picture directed by Ridley Scott starring Lady Gaga, Adam Driver, Al Pacino and Jeremy Irons, among other Hollywood stars.
Forden started her career reporting for "The Gaithersburg Gazette, a weekly newspaper in suburban Maryland, covering the booming development story along the I-270 corridor outside Washington, D.C. Her decision to pursue a Masters Degree from Johns Hopkins University's SAIS School of Advanced International Studies took her to Italy, where she ended up living and working for 22 years. She moved to Milan as a business correspondent and covered the explosion of family owned designer labels, including Giorgio Armani, Gianni Versace and Prada, into megabrands for publications including the Wall Street Journal, the International Herald Tribune, Women's Wear Daily, W Magazine, and Bloomberg News.
Forden is now based in Washington, D.C., with Bloomberg News, where she leads a team of reporters covering corporate influence in the nation's capital and the escalating scrutiny facing giant technology companies such as Amazon, Apple, Facebook and Google.
Donatella Melucci
Donatella Melucci was born and raised in Italy where she earned her University degree (Laurea) in Foreign Languages and Literatures from the University of Bari.
She received a doctorate in Rhetoric/Composition & Linguistics from Arizona State University. As a lecturer at Arizona State University, she also served as coordinator for the lower and upper division of the undergraduate program. Now she is a full-time Teaching Professor at Georgetown University. Her fields of specialization are syntax and methodologies for teaching Italian as a second/foreign language. Her studies have also focused on the use of technology in foreign language classes. She is also interested in translation studies. At Arizona State University she participated in developing a new curriculum based on teaching language in context for the Italian Intermediate level classes. She also developed other courses to be delivered in class and online. She has presented several research papers at conferences in Italy and in the United States. Among her publications, she co-authored a custom workbook to accompany Ciao!, a textbook for elementary Italian. She also authored the Internet activities to accompany Con fantasia, a textbook for intermediate Italian published by Heinle-Thomson.
In 2009 she co-authored Da Capo, 7th edition, a language textbook for intermediate Italian. In 2009 she translated from Italian to English a book titled Ricchezza Francescana (Franciscan Wealth), written by Giacomo Todeschini, from Italian to English, which was published by The Franciscan Institute Publications, NY. In 2014 she co-authored Piazza: Luogo di incontri 1st edition, a language textbook for beginner/intermediate Italian. In 2015 she translated from Italian to English a book titled Keep calm e passeggia per Milano (Keep Calm and Enjoy Milan)
MARCH CULTURAL EVENT:
In collaboration with Georgetown University, Department of Italian & NIAF (National Italian American Foundation)
The Gentleman Banker
The Life and Work of Amadeo Giannini, a Visionary who Changed the Rules of the Game in the Finance World.
Sunday, March 20th at 3:00pm ET- WEBINAR
Giorgio Chiarva presented his book in conversation with Anna Lawton, PhD, Writer and Publisher, Sara Gay Forden, journalist at Bloomberg and author of the book House of Gucci, Prof. Donatella Melucci, Georgetown University. With the participation of the translators Martina Benedetti Marshall and Danielle Guida.
This biographical novel recounts the extraordinary life of the Italian-American visionary founder of Bank of Italy, which later became Bank of America, the world's largest bank at the time.  Amadeo Peter, or "Appi" for his San Francisco friends, was an innovator and humanist who always put the common good above personal gain. 
He dedicated his life to helping businesses succeed in the San Francisco area, especially after the 1906 earthquake. He revolutionized the banking system by making micro-loans to hundreds of Italian immigrants and other citizens who lacked collateral. He financed Charlie Chaplin, who was turned down by other banks. It was the first time that a loan was granted without interest and repaid through box office revenues. The same happened with Walt Disney, Bill Hewlett and David Packard, and Joseph Strauss, the engineer behind the Golden Gate Bridge. The loan for that bridge was granted without interest and repaid from toll revenues. As a sharp venture capitalist, Giannini persuaded Henry Kaiser to convert his enterprise from the construction of roads and bridges to ships, which were built in record time and used to transport the troops to Europe during WWII. Giannini's bank contributed millions to Italy's reconstruction, one year in advance of the Marshall Plan. From 1932 until his death in 1949, Giannini was the most powerful banker in the world.