ITALIAN LANGUAGE COURSES
Learn the basics of Italian culture alongside appreciation for history, art, and architecture.
All levels, from beginners to advanced and native Italians. Starting Sept. 30th
___________________________________________________________________________________________________________________________________________
1. LANGUAGE COURSES 
Learn more about our Italian Language Program (ILP)
The objective of our courses is to develop comprehension and speaking skills. To reach this goal, we organize the kids in small groups, and give the personal attention the child needs, according to age and level.  Children will speak, read and write using traditional methods, but also will learn vocabulary and grammar by playing and moving, using the Total Physical Response approach. They will learn Italian culture and traditions by creating artwork, singing songs, watching videos, and other activities appropriate for their age. Children and teens are properly stimulated in order to develop a positive attitude towards the learning of the Italian language. All the instructors are native speakers and trained to teach Italian as a second language, among their high level preparation.
We offer language courses for any level, from beginners to advanced, which include native Italians. Our program aims to develop written and oral communication and teach the basics of Italian culture. Classes include Grammar, Mythology, History, Art History, Literature and Geography, from the younger ages to 12th grade.
Through books, PowerPoint presentations, videos, and games, our multidisciplinary program provides a historical and artistic picture of Italy, including geographical knowledge of Italy and Europe.
Preparation for AP exam is included in the curriculum starting from the younger ages. Learn more about AP Exam…
(Italian Students can register to take the AP Exams through us, and/or attend a 7 hour- preparatory course.)
Courses are annual. One-and-a-half-hour courses (except 2-3 years old, 1 hour) for 30 weeks.
Beginners courses for grades 6-12th at the Cortona Academy, Herndon, VA are restarting on March 9th, on Thursdays at 3:50-5:20. To register, send an email to [email protected]
At the Festa di Natale (Christmas party)  kids will perform recitals, sing Italian songs and will enjoy kids activities. Learn more…. At the Festa di Carnevale (Costume party), they will be engaged in a recital in front of the public, and will enjoy a themed workshop. At the end of the year, the students will receive a certificate of attendance.
Enrollment:
You can sign up for courses online and pay by credit card, or you can mail a check payable to The Italian Cultural Society and enter registration info in this form. You can pay half amount in September and half in January. Family Members* benefit from a discounted rate on the tuition fee and can borrow books and DVDs from our Italian library.
Courses take place on:
MONDAY, 4:15-5:45pm ET (45 hours course):
Advanced level for kids in 3rd-5th gr. (Fiorenza)

Elementary level for kids k-2nd (TBD)
FRIDAYS, Bethesda 4:30-6:00 pm ET (45-hr courses):
Intermediate for kids in 3rd – 5th gr. (Fiorenza)

Interm./ Advanced for MS, 6th -8th gr. (Laura)

Advanced for HS, 9th -10th gr. (Annelise)
SATURDAYS, Bethesda: (45-hr courses):
Pre-school Italian immersion 2-3 yrs. 9:30 – 10:30 (Stefania)

Pre-school Italian immersion 4-6 yrs. 11:00-12:30 (Stefania)

Advanced level for K-2nd gr. 2:00 – 3:30 (Samantha V.)

Elementary level for kids in K-2nd gr. 1:30 – 3:00 (Stefania)

Elementary level for kids in 3rd – 5th gr. 1:30 – 3:00 (Fiorenza)

Elementary level

teens 6th -12th gr. 1:30 – 3:00 (Samantha M.)
SATURDAYS, Fairfax, VA: Green Acres Center: 
Italian Immersion ages 4–7, 10-45-12:15 am ET with Mariana

Intermediate ages 8–11, 9:00-10:30am with Mariana
THURSDAY, Herndon, VA: Cortona Academy:
Elementary 6th-12th grade – 3:50-5:20 with Laura
2. WORKSHOPS
with Maestra Fiorenza Castelli
PARENTS NIGHT OUT – Enjoy a night out while your children learn Italian language and traditions at the ICS! Arts & crafts, poetry, video, story time and games to enjoy Italian culture. Kids will have pizza, gelato, fresh fruits and  juices.
L'AUTUNNO E LA FESTA DEI NONNI – venerdì 30 settembre
L'INVERNO E IL NATALE -venerdì 9 dicembre
LA BEFANA E I RE MAGI – venerdì 6 gennaio
CARNEVALE E MASCHERINE – venerdì 10 febbraio
LA FESTA DEL PAPÀ – venerdì 17 marzo
LA FESTA DELLA MAMMA – venerdì 12 maggio
3. SUMMER CAMPS
The Italian Cultural Society/Italian Language Program Summer Camp is an immersion program designed around a variety of activities that will encourage your children to speak Italian through singing, cooking, completing art projects, playing indoor and outdoor Italian games in the Battery Lane Park, behind ICS. 
4. TUTORING and AP Preparation Course
(AP Italian exam date: May 8th, 2023 at 12:00pm)
The Italian Cultural Society/Italian Language Program offers one-on-one tutoring for kids & teens. We will also offer a 7 hours group course specific for AP preparation for Italian students, open to everyone.
Dates: Friday, April 21th at 4:00-6:00 pm
Sunday, April 30th at 3:00-5:30
Sunday May 5th, from 4:30-7:00pm at the ICS.  Cost of the course and for the book tbd.
Please contact [email protected] or call the office for details: (301) 215-7885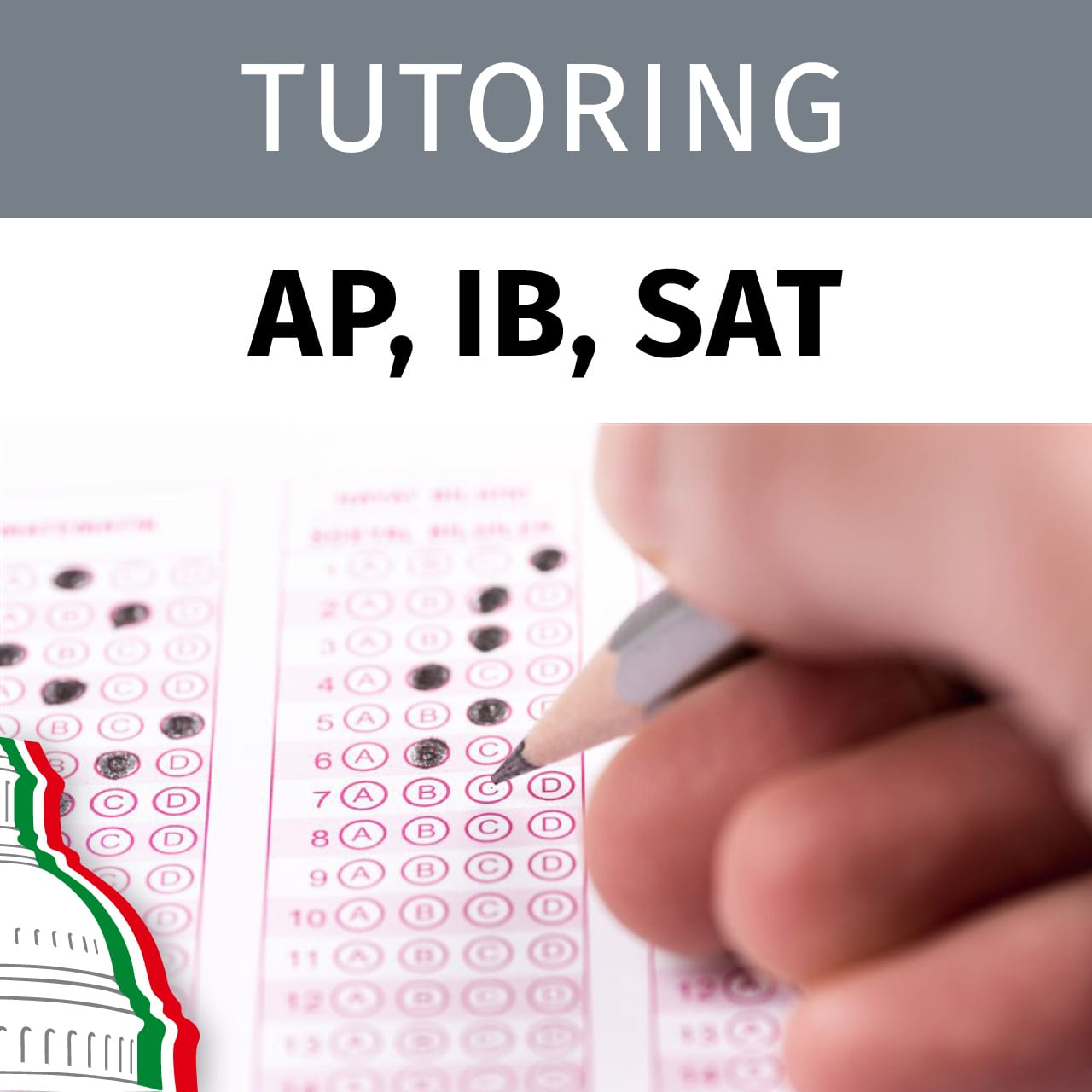 The CURRICULUM:
Pre-school Italian Immersion, for kids ages 2–6:
These courses are designed for both kids who are exposed daily to Italian and kids new to the language. The younger the child, the easier it is to teach the language by speaking it, through games, songs, video and TPR. The classes are in Italian (with occasional individual translation to the child who needs it to stay involved).
At a scholar age:
We group the kids according to their age and level of Italian: Beginners, Elementary, Intermediate, High Intermediate and Advanced.
Beginners classes introduce children to the target language from the start. Elementary level classes are for kids who already attended a Beginners course, or have been exposed to some Italian but need to develop comprehension and speaking skills.
Intermediate level classes are held in Italian (with occasional individual translation to the child who needs it to stay involved), and are designed for children who are exposed to some Italian, they partially or almost fully understand, and need to develop their communications skills.
Advanced classes are completely in Italian and are designed for children with a good level of comprehension, and can speak Italian, even if not fluently. Both the Intermediate and the Advanced level will work on grammar and reading, exploring, at a deeper level, cultural aspects, including Italian Geography, History, Mythology, Architecture and Art History, etc. The focus of our classes remains communication. These readings will be a source of discussion and an important way to enrich their vocabulary and knowledge of Italian culture. Conversation about everyday life, contemporary life, holidays, traditions, comparison of cultures,  are part of the class.  The syllabus includes preparation for the AP Exam in Italian (which is structured around 6 themes: Global challenges, Science and Technology, Contemporary Life, Personal and Public Identities, Families and Communities, Beauty and Esthetics).
Teenagers will be engaged in discovering Italian Culture while learning the language with their peers, through various interactive methods. Teenagers are also welcome to attend any of the adult classes. We offer preparation for Italian SAT Subject Test and AP Exam.
Which Level Is Right for You?
Level A1 - Beginner
Listening
Can understand basic instructions or take part in a basic factual conversation on a predictable topic.
Reading
Can understand basic notices, instructions or information.
Writing
Can complete basic forms, and write notes including times, dates and places.
Level A2 - Elementary
Listening
Can express simple opinions or requirements in a familiar context.
Reading
Can understand straightforward information within a known area, such as on products and signs and simple textbooks or reports on familiar matters.
Writing
Can complete forms and write short simple letters or postcards related to personal information.
Level B1 - Pre-Intermediate
Listening
Can express opinions on abstract/cultural matters in a limited way or offer advice within a known area, and understand instructions or public announcements.
Reading
Can understand routine information and articles, and the general meaning of non-routine information within a familiar area.
Writing
Can write letters or make notes on familiar or predictable matters.
Level B2 - Intermediate
Listening
Can follow or give a talk on a familiar topic or keep up a conversation on a fairly wide range of topics.
Reading
Can scan texts for relevant information, and understand detailed instructions or advice.
Writing
Can make notes while someone is talking or write a letter including non-standard requests.
Level C1 - Advanced
Listening
Can contribute effectively to meetings and seminars within own area of work or keep up a casual conversation with a good degree of fluency, coping with abstract expressions.
Reading
Can read quickly enough to cope with an academic course, to read the media for information or to understand non-standard correspondence.
Writing
Can prepare/draft professional correspondence, take reasonably accurate notes in meetings or write an essay which shows an ability to communicate.
Level C2 - Native Speaker
Listening
Can advise on or talk about complex or sensitive issues, understanding colloquial references and dealing confidently with hostile questions.
Reading
Can understand documents, correspondence and reports, including the finer points of complex texts.
Writing
Can write letters on any subject and full notes of meetings or seminars with good expression and accuracy.
"
The class about Sicilia was AMAZING!
I'm sooooo happy that I had the opportunity to take that class! It was an opening or discover moment in my life in which I learned so much from my ancestral home that I'm planning a visit to Sicilia very soon! Professor Sabina was GREAT! I hope to take more Italian history classes from her. Her husband was also great. I enjoyed the food, the food…. It was like heaven
"
"The ICS is the source for not only learning to speak the Italian language, but also for discovering Italy in its history, arts, and culture. Under the leadership of Francesca Casazza, the Italian Language Program has been transformed with an innovative approach to learning that is both inviting and educational. As a novice student, I have learned tremendously and now feel confident in my ability to learn (even when I make many mistakes). If you want to learn Italian, come to the Italian Cultural Society of DC."
"I am excited to start planning our day in the city where my grandfather was born and it will be so helpful to have an experienced local guide. 
I am a new student in your wonderful language school. I must tell you how impressed I am with the program. Lucy was extremely helpful when I was doing drop-in classes in December and I feel like I have now found the perfect class. Dario is a marvelous teacher and he has put me at ease and made learning fun.
Thank you again."