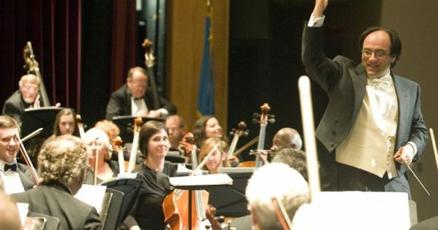 CUA Music Department in collaboration with The Italian Cultural Society of Washington DC Invites you to:
An Italian Evening
Chamber Orchestra Concert
September 25, 2022 at 7:30 p.m.
Heritage Hall – 620 Michigan Ave NE, Washington D.C.
Verdi Preludio to Act I of La Traviata, Procaccini Marionette, Bottesini Concerto No.2 for double bass with Catholic U Faculty David Sheets, Mendelssohn Symphony No. 4 "Italian"
David Sheets
Kansas native David Sheets is the Associate Principal Bassist of the Baltimore Symphony Orchestra. He started his career as Associate Principal Bass of the Rochester Philharmonic Orchestra during his Sophomore year at the Eastman School of Music after playing for one season as a section player. After leaving Rochester to perform with the Saint Louis Symphony, David became the youngest member of the Baltimore Symphony section in 1996 and the Associate Principal in 2016. David has performed with the Philadelphia Orchestra, the Saint Paul Chamber Orchestra, the Bergen Philharmonic, the Philharmonia Orchestra in London, and spent two seasons in Minneapolis with the Minnesota Orchestra. He has taught aspiring orchestral bassists as a faculty member of the Asian Youth Orchestra in Hong Kong since 2006, and has taught classes at a number of leading music conservatories including the Eastman School of Music, the Boston Conservatory, and Johns Hopkins Peabody Institute.
 Maestro David Sheets' Masterclass:
Bottesini Concerto no.2
"and other standard Bass repertoire"
Prof. Sheets, Baltimore Symphony Orchestra
October 10th, 7:30-9:30 pm, at the ICS Bethesda Headquarters

4833 Rugby Ave Suite 201, Bethesda, MD 20814
The Italian Cultural Society is happy to sponsor a Masterclass by Prof. Sheets, the associate principal of the Baltimore Symphony, focusing on Bottesini's Concerto no.2 as well as other standard solo repertoire and orchestra excerpts.
Students will be divided in 2 groups: those who will play for him (no more than 5) will pay $100, all the other auditors $30.
Those who want to play for Prof. Sheets, should submit here a Youtube unlisted video with any standard repertoire of their choice, no longer than 5 min, by Sept 10th.
Before register as a Participants please wait to be selected.
Registration by October 7th.
For more info contact us at [email protected]
XXII Week of the Italian Language in the World 
L'Italiano e i giovani
with Laura Caparrotti
October 16th, at 3:00 pm
More information will follow.
Webinar:
Scultura ed arte contemporanea. Il museo del Parco di Portofino
with Daniele Crippa, President of Museo del Parco, and Prof.ssa Francesca Boschieri, Journalist
November 6th, at 3:00 pm
More information will follow.
ICS Recommends the following upcoming events:
Get Info on Upcoming ICS Events & Courses