Cooking classes (in Italian & English)
We aim to educate students about the pleasures of the Italian kitchen table and fresh cooking. The instructor will share the concepts of simple, yet sophisticated Italian cuisine while guiding you in preparing a gourmet meal. During this fun occasion you will have the opportunity to learn and practice Italian while diving into the origin and history of delicious recipes. Our instructors, in fact, are ladies who enjoy sharing their passion for the typical dishes of their region with others.
In the comfort of a private home, sipping wine and having a great time, participants will transform ingredients into a culinary masterpiece, making cooking a manner of self-expression. The instructor will supervise the students while they carry out the stages of preparing the meal, assisting with the techniques and skills necessary.
We will begin with fundamentals, starting with basic recipes and techniques. In reality, these first steps are the most difficult: it is easy to impress with an elaborate dish using many ingredients, however, a real culinary guru is able to use certain techniques to make a simple pasta with tomato sauce and basil or seafood risotto unforgettable!  
ONLINE COOKING CLASSES
Cost: $35 for 2 hr class (ICS members $30)
Saturday March 26th, 2022 from 4:00 to 6:00pm –
Simo's kitchen presents: 
Specialità dell'Emilia Romagna: Tagliatelle romagnole al ragù * Insalata di sedano e parmigiano * Ciambella romagnola 
IN PERSON COOKING CLASSES
Cost: $85 for 3 hr class (ICS members $80)
The price includes ingredients and wine which will pair deliciously with gourmet dishes.
Saturday April 9th, 2022 from 11:00am to 2:00pm – with Lina Nicolai. 
Menu di Pasqua
Antipasto: Salame e Pecorino (Italian pork salami & Pecorino cheese)
Primo: Risotto agli Asparagi (Arborio rice, Asparagus & Parmigiano)
Secondo: Costolette d'Agnello (Herbed Lamb chops & Golden potatoes)
Cooking classes at your home!
If you would like to organize a cooking class in the comfort of your own home, give us a call at (301) 215-7885 to schedule accordingly. You and the instructor will decide what to prepare. The instructor will do the shopping while you and your friends enjoy a delicious Italian dinner and learn how to make it!
Cost varies according to the number of class participants and additional dinner guests/preparation time.
Schedule Fall 2022: COMING SOON
Day:  TBA
Location: TBA
Day: TBA
Location: TBA
Minimum of 4 participants required per class.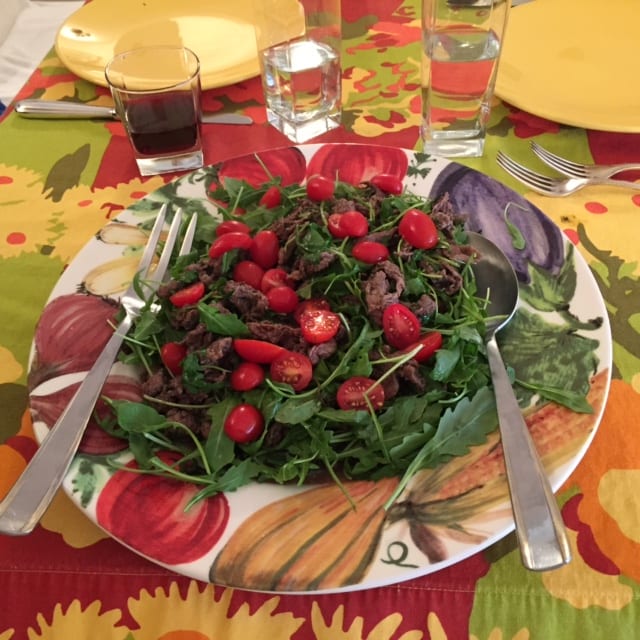 "The Italian cooking class that my children and I attended on June 5th, 2015 was absolutely fantastic! Not only were the dishes excellent, Maura welcomed my daughter, son and me with so much warmth. She chatted with us as she showed us how to chop, stir and cook all the dishes. This was a surprise I gave my daughter for a Bridal Shower and she loved it. All three of us love to cook! Thank you once again Maura for all you did. "